Ivan Brunetti (October 3, 1967) has done a number of New Yorker covers. This cartoonist was born in Italy, studied at the University of Chicago, and now considers Chicago his home. Home though, only in a superficial sense, he is famously insecure. A writeup from the Chicago Tribune mentions his

... knowing self-effacement.... The introduction to his 2006 collection, "Misery Loves Comedy," was written by a social worker. But the angst is no joke. He doesn't think much of himself, his talent, his appeal. Which is ironic, considering that during the past two decades he has gone from being the acerbic underground artist behind the insanely harsh comic "Schizo" to, recently, a well-regarded editor (of Yale University Press' best-selling, two-volume "An Anthology of Graphic Fiction, Cartoons and True Stories"), an acclaimed New Yorker magazine illustrator and one of Columbia College's professorial stars. He's taught there since 2006......


Our Brunetti cat is a detail in a cover he did for the December 15, 2014 New Yorker. It's a thumbnail for copyright reasons but you can see a bigger copy here.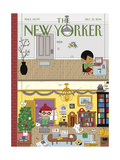 This very charming cartoon shows two rooms differently decorated for the holidays. There is a reversal of expectation wherein the the messy Victorian decor, which has a cat in it, belongs to an unfashionable guy.

[About Brunetti] ... Francoise Mouly, the longtime art director of The New Yorker, said, "Let's put it this way — Ivan will never be comforted in life." She said it in her native French lilt, with the breeziness of tone and the bluntness of meaning we associate with the French. But without malice or sarcasm, only lament and concern. There is no comforting Ivan Brunetti.

She should know. She works with him, and, though The New Yorker is famous for rejecting submissions from both the established and the unknown, in the several years Brunetti has been designing covers and full-page comic strips for her, Mouly has yet to turn down "a Brunetti," as she calls the cartoonist's work.