There are of course paintings of cats at the Harvard Art Museums. This simply illustrates the point: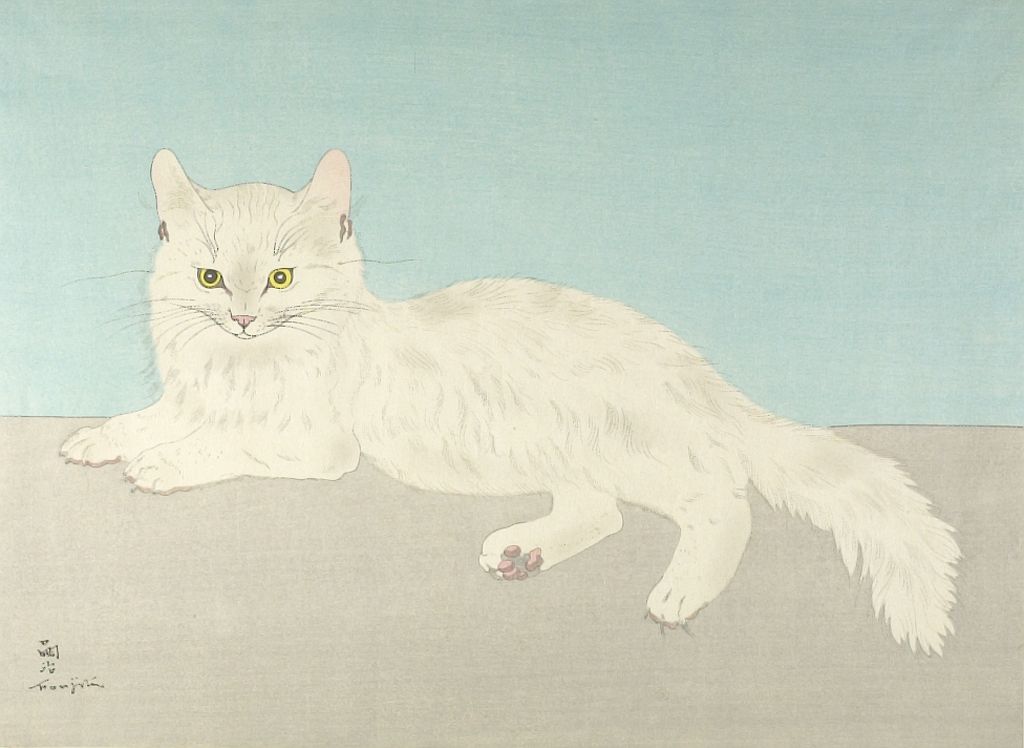 The director of these art musuems is scheduled to step down July 1, 2015, according to the Boston Globe (January 29, 2015) . Thomas Lentz (June 11, 1951) finished last fall a 350 million dollar refurbishment of that complex.

He leaves in his moment of triumph, with one of the world's great art museums — home to more than 250,000 objects across all cultures and periods, and many individual masterpieces — hugely enhanced after years of often grueling effort.....

A tall, white-haired Californian who loves the outdoors, Lentz speaks in a drawl so steady and relaxed that he can often sound bored with himself. ....[I]n a letter sent out to the Harvard community, he summarized his experience: "I came to Harvard thinking much of my work would be centered on infrastructure issues at our historic building at 32 Quincy Street. While that did occur, what we really pursued was something quite different: a complete re-imagining of our institution and its re-alignment with the academic mission of Harvard University."

Before moving into museum administration, Lentz was a specialist in Islamic art....

Lentz's public manner, both urbane and self-effacing, veils a streak of unbending determination. When he arrived in Cambridge from the Smithsonian Institution in Washington, D.C., Harvard's storied art museums had endured years of dysfunction. The old Fogg Art Museum on Quincy Street, which held the bulk of the collection, had a leaky roof and no proper climate control, putting precious artworks at risk and making visits to the museum uncomfortable.

Its storage spaces were overcrowded, and its original, 1927 electrical and plumbing systems were still in place. If it was not overhauled, quickly, the museum — a home to masterpieces by Rembrandt, Van Gogh, Pollock, and countless others — would not be reaccredited, according to a 2007 report in Harvard Magazine.

The Busch-Reisinger Museum, dedicated to Harvard's collection of Germanic art, was ensconced at the time in a 1991 building tacked onto the back of the Fogg, and suffering from structural problems. The Arthur M. Sackler Museum, devoted chiefly to Asian art, was across the road in a building designed in 1985.

Lentz's job was to find a way to yoke all three museums together, while acknowledging their separate histories and safeguarding some degree of autonomy. He had to revamp — really, to gut — a beloved old building in the process: a massive project for which the Italian architect Renzo Piano was hired.
....

The project required finding a facility that could house the collection and the museum's administrative offices during the renovation period. Lentz and his staff installed a display of highlights from the collection in the Sackler galleries, and moved the rest of the collection to storage in Somerville. They had to get permission to knock down the Busch-Reisinger building, and to make necessary alterations to the neighboring Carpenter Center for the Visual Arts, famous for being the only building in the US designed by the great modernist architect Le Corbusier.

Lentz had to navigate his way through Harvard's byzantine bureaucracy, resolve numerous conflicts with Piano's team, and raise huge amounts of money even as Harvard's endowment plummeted in the wake of the global financial crisis of 2008. He had to unite the three museums not only physically, but also administratively and conceptually, trying all the while to keep the institution engaged with its essential business, and frustrated curators happy.
...
Lentz's accomplishment was impressive, and speaking of impressive:
The portrait above is by Tsugouharu Foujita. Titled "White Cat," it dates from the Shôwa period.

This next painting, also at the Harvard Art Museum, is titled "Cat and Goldfish Bowl". The artist is Isoda Koryusai and it dates to the Edo period.
It is interesting that this painting was done about 20 years after the incident recorded in Gray's poem: "Ode on the Death of a Favorite Cat Drowned in a Tub of Goldfish." That poem documents an actual event which happened exactly opposite Japan on the globe.
Is there, in the history of the world, a better portrayal of a wet cat paw than that above by
Isoda Koryusai
?